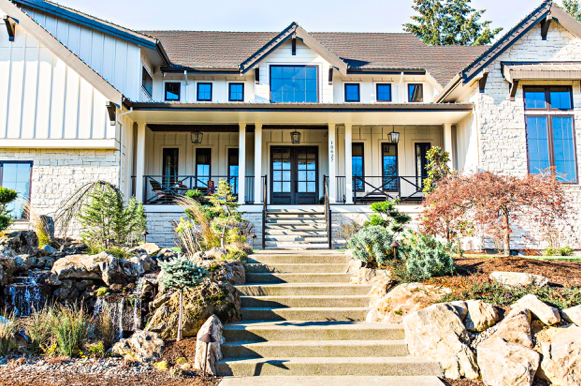 3 Curb Appeal Projects for a Drool-Worthy Home
Curb appeal is how attractive your house looks from the outside, and it's one of the biggest factors in how long a home stays on the market. That's because great curb appeal leaves buyers wanting more. When a home's exterior fails to impress, on the other hand, it's more likely to get overlooked. Great curb appeal doesn't only help your home sell faster, it also makes it sell for more: On average, according to HomeLight, well-landscaped homes sell 5.5 to 12.7 percent higher than plain properties. In a high-priced region like the Bay Area, that price boost makes landscaping upgrades well worth the cost.
Design a Charming Entrance
The front entrance is the first thing prospective buyers see, and they'll spend time lingering on the front porch again while waiting for a realtor to let them inside. Make sure your front entry feels bright and welcoming by making a few updates before selling.
Repainting the front door is an easy way to refresh a front entrance. If your front door is outdated, replace it with a modern style that complements your home's architecture. In some cases, replacing the lockset may be enough to bring a front door into the modern era.
After updating the front door, turn your attention to your house numbers and lighting fixture. Do they add personality to the home or fade into the background? While they may seem like minor details, replacing exterior lights and house numbers has a big impact on a home's look — and prospective buyers' ability to find it!
Finally, the finishing touch: potted plants. Potted plants add character and interest in every season, and if you choose low-maintenance plants you won't have to worry about killing them.
Create an Outdoor Living Space
The front porch gets buyers in the door, but the backyard is what sells the house. In fact, today's buyers prioritize a livable backyard over extra square footage, with 56% of home buyers saying they'd sacrifice indoor square footage for a great backyard.
In addition to privacy and space for kids and pets to play, buyers want backyards with outdoor living spaces. While sellers don't need to splurge on outdoor kitchens and built-in fire pits in order to sell, a staged patio adds a lot of backyard appeal.
While a basic concrete patio can cost as little as $8 per square foot, or an average of $1,545, spending more for stamped concrete is usually worthwhile. Stamped concrete starts around $8 per square foot with high-end stamped concrete as high as $18 per square foot.
Liven Up the Landscape
Now that you've upgraded the hardscapes, it's time to turn your attention to the greenery. Trees should be trimmed, walkways edged, and garden beds weeded and mulched before selling a home. However, while these basics will keep your yard from scaring buyers away, they won't do much to impress prospective buyers.
If your garden beds are looking barren due to neglect or seasonal changes, invest in new landscape plants. Homebuyers want a garden that's beautiful yet easy to maintain, so look to ornamental grasses, shrubs, succulents, and herbs like rosemary and lavender. These plants are both drought-tolerant and easy to care for, making them great choices for California gardens. If you're not sure where to start with landscape plants, consult with a landscape designer to get inspiration for your property.
Your home may have great bones, but that's not enough to generate excitement when it hits the market. If you want to impress buyers both online and in-person, investing in your property's curb appeal is a must. With modest curb appeal upgrades like these, you can transform your home into an eye-catching property that buyers can't wait to see more of.
Guest Writer for Next Chapter Real Estate, Suzie Wilson of Happier Home