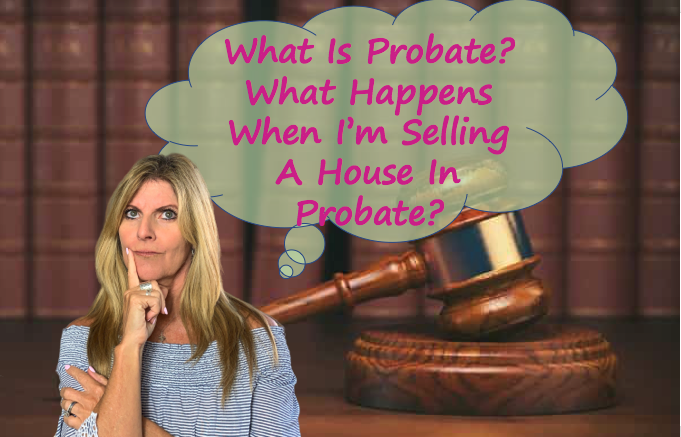 What is Probate? What is the Probate Process All About?
I'm Annie Baker, a Real Estate agent here in Silicon Valley of California. I specialize in the selling houses that are in trusts and probate. Also, it there's a conservatorship in place, and when the senior needs to downsize.
So, What is Probate? And What is the Probate Process All About?
Today I want to shed a little light on what the probate process is all about. It's a big legal process, and there are time frames, certain paperwork, terms… Lots of legal jargon, and I'm not an attorney; So I'm not going to delve too deep into it.
I'll give you an example of a simple probate sale, and what it would mean to someone that is the administrator of an estate.
The probate process essentially happens when someone passes away, they didn't have a living trust, and they had assets that totaled more than $150,000. That's easy to accumulate in the Silicon Valley if you have a condo or house!
All the assets a person has need to amount to a sum higher than $150,000 which can include the value of cars, bank accounts, stocks – they all matter for the value of your estate. So if that value amounts to higher than $150,000, in California the person's estate needs to go through the probate process before the heirs can inherit anything – even if the person had a Will and they designated someone as the administrator of that Will.
A Will does not protect someone from Probate. A Will just designates who gets what of the person's belongings. California basically needs to oversee the disbursement of the persons assets to make sure there's no misuse of funds, no funny business going on with the disbursement of all the assets.
In this case, I'm going to say uncle Johnny passed away. He was never married, never had kids, and his favorite nephew is Bill, and so Bill was designated as the administrator of his will.
Bills first step is to take the will and any other document to an attorney, the attorney can administrate everything through the courts for the probate process.
The time frames for administrating a probate can vary significantly, depending on how complicated the estate is. But a quick and fairly simple one can still take about nine months. And a more complicated or difficult one can take up to two years, if not longer. It's a lot of time that to make sure everything is in order, to give Bill the authority to have access to the bank accounts. To sell the house, sell cars, sell anything during that process.
There is what is called a probate referee assigned to the estate. Now, probate referee is essentially an appraiser of all the assets. So they appraise the house at the time of death, they appraise cars, any stocks and bonds, what was the value when he passed.
In California, you can't sell that the house under 10% of the value that the probate referee states the value is. So this has come up for me a couple of times. Usually, there is no issue with the value being at the value they designate or over.  The listing agent for the house needs to know what that value is, just they can't accept an offer and submit everything to the courts, and if it wasn't high enough, it's going to get kicked back. Make sure the real estate agent is aware of this! You want to avoid that head ache of having the sale kicked back.
It's pretty standard, once you get in the house ready for sale, just like any other sale, except from the real estate documents that are needed. I have to make sure I use all the appropriate probate documents, a probate listing documents. As a seller of a house in probate you are not required to provide as many disclosures to the buyer. You haven't lived in the house, this wasn't your house, you don't know the ins and out of it. So again, make sure you use a realtor that knows what documents you need to provide and what ones you don't.
From a buyer's perspective, if you're buying a house that's in probate, you have to understand, you're not going to get all of the traditional seller disclosures, you probably won't have as much information as would be the case in a regular sale. You might need to do a little bit more due diligence on your end! The buyer's real estate agent also needs to use a probate purchase contract. So again, the real state paperwork is different than a regular transaction.
 As long as the buyer provides an offer that's close enough to the probate referee appraisal value, all the paperwork gets turned back into the court to make sure everything looks like it's on the up and up, and it's pretty straightforward from there.  The biggest thing to know when you're selling a house and probate is you definitely have the more checks and balances from the court system overseeing you, and making sure that you have the legal right to sell that house! Be sure all the real estate documentation is done properly.
It's really just a process of being babysat by a third party during the whole transition. Make sure you have the right team in place to keep it going smoothly. It is an emotional process, whether you're close to the person that passed away or not. It can be overwhelming as there are so many steps to the process. My tip is to make sure you have someone that knows what they're doing for the house sale!  
My second tip is, if you're watching this, please get a Living Trust! It will protect you from the probate process in California if you have a Living Trust.
So I hope I shed a little light on the probate process. It doesn't have to be a scary; it's just a process, but it does cost  a lot of money.
If you have any questions about probate, or selling a house in probate you can email me at [email protected], or call or text me at (408) 614-7370. I'm happy to help you through this process or refer you to a probate attorney.
Until next time, have a great one!