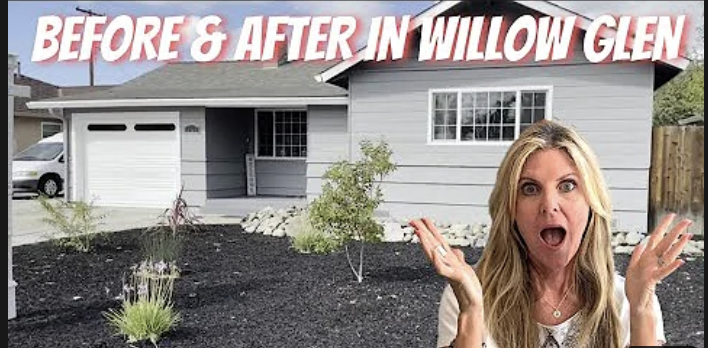 1449 Blackstone Before and After
So here we are, my newest before and after video. I'm standing in front of 1449 Blackstone. It is in South San Jose. I'm Annie Baker, I'm a realtor here in Silicon Valley. Let's see what we've done with this house.
This is an inherited property, no real front landscaping, a pale pink color to the exterior.
And most of the inside was original, with the original hardwood floors, a real fireplace, and that opening in the wall to the other room. They had put in that new tile in the kitchen, we had already started this recess lighting, but the original kitchen original encounters cabinets had this iron railing here, so you get a small step down into this family room… It was original from 30, 40 years ago. The hall bathroom had already started getting remodeled and had plans for that. The four bedrooms had laminate flooring, some of them had that original hardwood. This is what I would consider the primary bathroom, or even though his small. They had updated the shower probably about 15 years ago with some newer tile and had removed the vanity. 
We kept the front landscaping really low maintenance. We installed the drip system, put in that bark with new plants. It looks great. Updated the paint color. Look at that; so much better. We painted that front landing area too, so it felt fresh and clean as you entered.  
We added all new interior lights, plus the exterior light at the front door. We added all new flooring throughout to keep the flooring the same throughout. It makes it feel larger and more spacious.
We kept the same paint color throughout, we added that recess lighting. We patched up that wall to close that whole space. It kind of give it a more complete feeling. We changed all interior doors, interior door handles, hinges, new baseboards, new vanities and toilets in both bathrooms. That's the same tile in the primary bathroom, but it just looks better with the new paint color. The hall bath shower tile was picked by the owner. If he had asked me, I probably would have kept a tab in this bathroom, because a lot of people still need a tab if they have children.  There's no tab in the house, just showers.  
Look at this kitchen! All new. New wood shaker cabinets, they have a spice rack snf have a lazy Susan's in the corner cabinets, subway tile with the black grout. We removed that iron railing and opened that space. We have the same flooring, same baseboards throughout that we opened that space, took out that railing for a spacious family room, We, just cleaned up the backyard, but are leaving that to the new owner's imagination.
So, what do you think?… Do you think we did a good job or what? For this home, or I put in around $40,000, he put in some of his own, I'm guessing in the neighborhood of $20,000 to $30,000. One thing I forgot to mention is that he also upgraded the water heater and put a tankless water heater in the attic, and he upgraded the electric panel. We did that with permit, so that was great for the new buyer. 
Let's just say round numbers, we put in around $80,000-$90,000. When I first met him, I thought they could get around $950,000 for the house. Drum roll please. We got $1,375,000. I think that $80,000 to $100,000 investment was well worth it. It probably earned him a minimum of $200,000. I'll be honest, I think if we had had a bathtub in the house, he probably could have gotten closer to $1,400,000. Like I said, he had made that decision prior to talking to me. That was probably the buyer's biggest draw back to the house. Even over the one car garage. I know my husband kept saying, "Who wants a one car garage, but there are lots of people that have one car garages, but people, when they have small children, they really need a bathtub.
So, if you're thinking about remodeling your house, make sure there's a backup and at least one bathroom. Again, I still think it was a fantastic sale price, they're very happy.
I would love to talk to you if you have any questions about fixing up your house before sale, if you need a little extra cash, I'm here to help, I get reimbursed at the close of escrow. If you have any questions on my contacts. Again, I'm Annie Baker until next time, have a great one.
 If you have any questions, you may contact me directly here: [email protected]