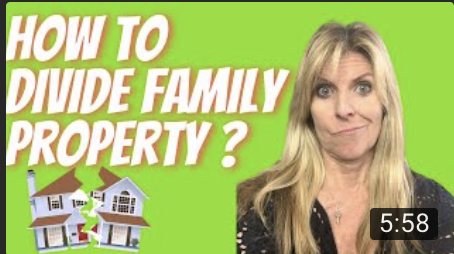 How to Divide Family Property – Inherited a House Full of Belongings
Inherited a House Full of Belongings?
How to Divide Family Property?
So you've inherited a house with your siblings and your parents' house is full of stuff and you don't know where to begin.  Well, I'm going to give you a couple of steps to follow to keep things as easy as possible.
I am standing at a client's house in the villages where they have inherited their parents' property and it was full of personal belongings. There are three siblings and they needed to know what to do first.
Follow these steps, and it will help you keep things a little more simplified and more organized.
Number one, get your siblings together to do a walk-through of the house and take inventory of what is available, what's in the house. If all the siblings don't live locally, get on a Zoom, get on FaceTime, whatever it is, and just do a full inventory of the house, going room by room, stick together. Sometimes each sibling has their own idea of a one piece of memorabilia that they really want to keep from their parents and let's just make sure everyone's on the same page. By sticking together, if one of those items comes up, you can talk about it and maybe right then it can be decided, hey, you love moms one serving platter and none of the other siblings want, that's easy.  
Let's set that aside. However, let's say that serving Platter is desired by a couple of you, set it aside to negotiate later, don't haggle… Don't get into it with each other. Emotions will be running high. Just put it aside, and you have a full list and full inventory of everything in the house, be as specific as you can.
 Number two, decide who gets what, try and be fair or try and be reasonable. Let's go back to the serving platter, it's kind of a silly little example, but let's just stick with it. Let's say a couple of you want it, but there are a couple of other items, both of you want too. Again, try and negotiate. Give up a little to get a little. And if you really can't make that happen, then usually the easiest thing to do is to sell the item and just divide up the money. If that is a worst-case scenario, then maybe find a different solution, maybe neither of you want it to leave the family, so maybe you could say, hey, you get it for two years, and then I get it for two years, something like that. There are ways around just one person getting it or selling it, but sometimes when you say, well, then we just have to sell it, everyone puts the brakes on and says Oh, let's figure something else out, to negotiate how it can work.
So that takes us to the next step, get in a liquidator or an appraiser to come through and value any of the high value items. To be honest, sometimes there aren't very many items like that, but if you're not sure, better be safe than sorry. And have someone come in and give you an idea on value. So you do have an idea before you divide things up… After the fact, you don't want to realize, Oh my gosh, brother Billy got a $2000 painting. We had no idea, and I got this $5 painting and now you're not feeling like things were equal. So if there are anything in question of value, get an idea of what the actual value really is.
Step number four. If you have a large extended family reach out to aunts and uncles, cousins, nieces and nephews, and good friends of your parents; you'd be surprised sometimes, your mom's best friend would love to have something of your mother's… So if you have a list, you can send it to the family or you can bring their friends over, the family over and they can pick out the items that they want. 
Number five let's get things sold. Whether you choose to do an estate sale in person or online, you can do it yourself, or you can hire companies that do estate sales. They can be a little pricey, but honestly, it's a lot of work. You must be there all week to prep all the items that have to be sold. I also know as companies that do online estate sales that I like, I have another video about options like that, I also have an option for a woman that will come and help sell things individually, so during covid, some neighborhoods don't allow for estate sales taking place so she will actually come in and take pictures of everything, get the price list, make sure you guys agree with everything, and she can sell things on say Craigslist, apps like offer up and let go and in next door.
There are great resources to get things sold, and then whatever is left, you can donate the rest or take to a dump if needed. I have people that can help donate things  that work with shelters, dog shelters, women shelters. Places actually need some of these items so we try and take as little as possible to a dump.
There you have it. That's probably the easiest way to just sort of have a plan how to get rid of all the bones, but be patient, be kind to each other. It is overwhelming and emotions run high, so remember that, and I'm always here to help, please plan on me if you need anything. Until next time, have a great one.
Check out this blog!
What is Probate? What is the Probate process all about?
If you have any questions, you may contact me directly here: [email protected]