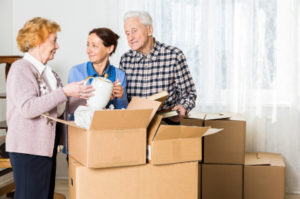 How Are Senior Move Managers Different From Regular Movers?
While there are several differences between a Senior Move Manager and a regular mover. The biggest difference is where the person is moving.
The job of a regular mover is to take care of the personal property while moving it from one location to the next.
They may pack and unpack you from one place to the other, but it's a very basic form of unpacking in the new location.
Belongings are unpacked at the new location, but most likely you will have to go through and properly organize things the way you need them. Items will be taken out of boxes, cellophane removed from large pieces of furniture and place in a room, and clothes hung up, but that's it.
Once this is accomplished, the job of a mover is complete.
A Senior Move Manager
However, a Senior Move Manager is much more concerned with helping you chose the most important belongings you want to bring to your often much smaller place you will be moving to and make sure they will all fit.
Top Reasons to Consider a Senior Move Manager
Typically, Senior Move Managers even have the exact measurements of your new space and know exactly what piece of furniture will fit where. What pictures belong on each wall, and what knick-knacks are most important for you to bring. And know exactly where they will be placed before even starting the move process.
The client's clothes will be hand-picked to know exactly which items they want and will be hung in the closet in the order the client wants. They take great care in knowing the specifics down to which side of the armrest you like the TV remote placed on.
They are also concerned about the emotional, physical, and mental well-being of their client prior to and throughout the move.
As the point of contact during a move. A Senior Move Manager is aware of the client's needs and ensures organization, compassion, and efficiency throughout the process.
Once the detailed process is complete as to what is getting moved. What is staying, on the day of the move? The client is asked to leave their house at 8:00 am and meet at the new residence at 6:00 pm.
When the client walks in their new space. It should feel like a miniature version of the home they just came from.
The relief and joy we see in our client's face are priceless. After often times dreading this day, they are actually smiling at the end result.
Moving a Senior
The process of moving or aging in place can be stressful and overwhelming.
Our Senior Move Managers oversee the moving process from start to finish. Ensuring safety and quality of life for the maturing client. Although services offered may vary. All Senior Move Managers abide by a code of ethics and are committed to providing a successful transition for seniors.
Services Provided by Senior Move Manager
Some of the services provided by a Senior Move Manager may include, but are not limited to the following:
Developing a move plan or an aging-in-place plan which is acceptable to the client.
Organization of property, downsizing and arranging storage for personal property.
Arranging removal of excess property through estate sales, auctions, donations, disposal, etc.
Overseeing movers, and unpacking and organizing the new home.
Customizing floor plans and organization of current or new home to ensure safety and quality of life.
The role of a Senior Move Manager is to advocate for the client and to bear the burden of worry so the client can enjoy his/her new living situation.
The cost of Senior Move Management varies by needs and services provided. Each situation is unique and will be tailored to meet the client's goals.
Senior Move Managers provide a detailed, written estimate before services are rendered and explain each step thoroughly. So no questions are left unanswered before the process even starts. 
When you work with our Senior Move Managers you can rest assured we have years of experience, many happy past clients and treat each client as if they were one of our parents.
Don't dread the inevitable change of residence. Let us take the brunt of your stress and worry off your shoulders and help make the transition as smooth and painless as possible.
We look forward to helping you or your family member.