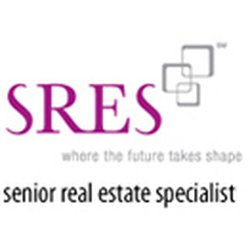 What is a Senior Real Estate Specialist and How Do They Help Sell a Seniors House?
What is an SRES?
A Senior Real Estate Specialist (SRES) is a real estate professional who has additional training in helping clients age 50+ and their families when they need to buy or sell a house.
Buying and selling property can be one of the most stressful life events, especially for clients that are slowing down a bit.
A Senior Real Estate Specialist is specifically trained to understand the needs of his/her clientele and to bring a unique perspective to issues of concern for seniors.
We have experience when clients are retiring out of the area. And need to understand the tax ramifications of so much appreciation in their house. And how to avoid too much capital gains taxes if they are buying in a less expensive area.
We have experience when clients are downsizing into single story homes or into active adult communities. You'd be surprised how many 55+ housing communities there are in the Bay Area.
There are quite a few small developments, not just the big ones like The Villages in San Jose. We also have clients who have sold homes and moved into assisted living or memory care facilities.
We are sensitive to situations like that. Having not only the SRES designation but the practical knowledge of working within this demographic. Almost exclusively for 4+years sets us apart from the average Realtor. Even the Realtor that has the SRES designation but have only handled a few sales.
How SRES can be Helpful
Here are several areas where a Senior Real Estate Specialist is knowledgeable and can provide assistance to Senior clients:
Understanding housing options and alternatives available to people 55+. Depending on the kind of housing they are looking for from assisted living to active adult communities.
Understanding financial situations in regards to tax issues when selling 
How to minimize the tax burden when selling a long term residence with high appreciation 
Understanding how Medicare can affect the kind of help one can receive in a new residence.  
Providing referrals and specialists for needs such as decluttering, estate planning and estate sales. Preparing legal documents such as a Living Will, and tax counseling.
Making sure a Senior Move Manager is utilized if the situation calls for it.
Awareness and experience with aging-in-place needs.
Handymen and General Contractors who specialize in remodeling and modifications for unique needs in their homes.
Locating community resources to ensure a good fit for seniors within a community.
Understanding reverse mortgages and the Housing for Older Persons Act (HOPA).
Working with a Senior Real Estate Specialist can remove many of the stressors that come along with buying and selling a house.
The Team
All of our Realtors have the special SRES designation and can help seniors customize a plan for their individual living situations in order to promote the highest level of independent living possible for the future.
We pride ourselves in only specializing with this demographic to provide the most knowledge to support our clients. We look forward to helping you whatever your housing needs may be.