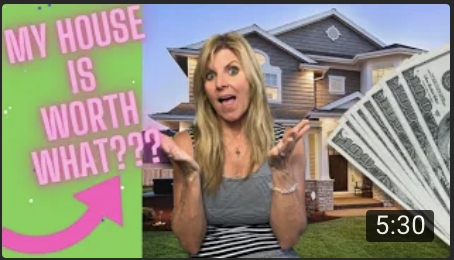 What is the Value of My House?
What's the value of my house? How many times do I get that question? I get it a lot, and a lot of people just want me to spit out a number. I'm going to talk today about things that affect what the value of your house, so stick around. 
Hi, I'm Annie Baker. I'm a realtor here in Silicon Valley, and I specialize in selling houses. Today, I want to talk about things that affect that value of your house. I'm not going to talk about what you should do to increase the value, I have plenty of other videos on that. Today I'm going to talk about factors that I consider, other realtors consider, and buyers consider when they're thinking about buying a house like yours. 
Number one: Location
You hear it all the time in real estate: location. Location is key. It is kind of everything, honestly, and I don't mean just location in terms of what city you live in. Let's say you live in Cambrian, but you're right next to Hillsdale Avenue. That's a busy street that's going to affect your value no matter how upgraded your house is, no matter how remodeled it is; it will affect the sale price.
Keep that in mind. Some people just don't want to be by a busy street. But that's also why some people will sacrifice that location, just to afford getting into a good area with good schools. But just because you remodel it and make it look fantastic, that still doesn't negate the fact that it's either on a street like Hillsdale, or a house or two from it. Busy streets are a non-negotiable for some buyers.
You will still get more than maybe your neighbor that doesn't have as many upgrades, but not as much as a house down the street that's in a cul de sac. It is what it is. 
Number two: School District
This is huge in Silicon Valley! People want the best school districts typically. So let's say you're in Los Gatos and you back up to Highway 17. That location, isn't great, but a lot of people will pay more for that house, even though it's on a freeway because it's in a top school district, even though it's backing on to 17.
A recently upgraded home in a top school district will still sell for more and be valued more than a house, let's say a remodeled home in blossom Valley. Even if it's on a beautiful tree line street and has tons of upgrades, but if the school district isn't as good and it's a little bit further commute for some people for work, the value isn't going to be as high… School district location key. 
Number three: Floor Plan
I would definitely consider the floor plan. When there's a house in a great location in a great school district, but it has a very strange floor plan, it is super funky and unusual, and you're just not sure how to update it, that will be harder for buyers to get excited about.
When you have a typical square or rectangle house, but it needs updates, buyers can visualize taking down walls, re-do the bathrooms, change the layout of the kitchen etc, they can get behind that more than if it's just a peculiar floor plan. They know how to make it work. That's really going to affect the value. 
Number four: Size
The larger the house, usually the more money you're going to get, even if it's not in the top location or topical district. There are always people that have a growing family, maybe they have multi-generational family, they need a bigger house, more bedrooms. So, the size of the house and the size of the a lot will definitely, usually positively affect the value of a house. 
Let's say you're not in the best location, not in the best school district, but you have a lot of upgrades and it's a great floor plan and it shows great, you're going to get a higher price then your neighbor will. Upgrades always help. There are always some people that they're kind of oblivious to a lot of other things, they just want to walk in a house, it's already done and beautiful, you're going to get a higher value for that house.
When I have people come to me asking what the value of their house is after having done all these great upgrades, and then I go see it but it's still a funky floor plan, something still closed off, maybe a little Winchester mystery Houseish… Even though it's a big house, they sometimes feel like "Isn't it worth a lot? But I have to tell them there are still too many other things to consider, so you'll do well, but not as well as you might think.
Be careful about doing too many upgrades if you have too many of the other things missing on what will be important like location, school district and floor plan. You don't want to be the nicest house in the neighborhood with too many upgrades that you're really not going to get the return back. On the other hand, if you buy in the right location, good school district, the premise is you will always do great. I hope I shed a little light on how we come up with some of the values.  Like it or not, those things all come into play.
So if you do want to find out what your house value is, Go to the link on my website and I will provide a professional report for you. And until next time, have a great one.